Central Mountains Baptist Church is a local church with historic Baptist belief, fellowshipping with the Australian Fellowship Bible-Believing Churches.
We stand for:


The Bible, as our guide.
Christ as our Saviour.
Strengthening families.
Warm conservative music.
Genuine Christian living.
Relevant, life-changing preaching.
Friendly caring atmosphere.
Helping the Community.
Seeking others to come to Christ locally and through missions
Independent Church life, free of religious politics.

We are located in the picturesque Blue Mountains, about 93km west of Sydney.
Our church services are held at Hazelbrook Primary School hall, 159-163 Great Western Hwy, Hazelbrook, Hazelbrook. For more information on how to get to us go to our location page.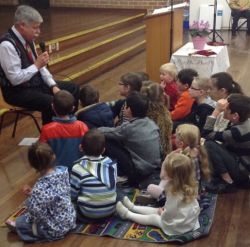 Contacts:
Pastor: Wayne Robilliard: Ph. (02)47588778

Sermons:
See Sermons page.


*** NEW!!! ***
go to our *** YouTube Channel ***

for live messages on Sundays at 10:30am and 5pm
May be delayed up to half hour during the current climate.

To have "Christianity Expalined":
see Programmes page.

For Free Bible Studies:
See Resources Page.

To find help for addictions/anxiety/depression/anger:
See "Life Issues"

To see a baptism:
See "CMBC Baptisms"

Hear Christians:
talk about their experiences with God on our "Testimonies Page"



<!//----------Page Setup-----Do Not Edit Below the Line--------------------//!>